Why Choose Our Organic Açaí & Superfruit Packets?
It's simple, really. Açaí isn't a trend—it's a nutritious, delicious powerhouse! In fact, this purple berry is thought to be the most powerful superfood in the Amazon. Wild harvested by hand from palm trees for centuries, Açaí is high in antioxidants and healthy omegas 3, 6, and 9, while free of naturally-occurring sugars. But not all Açaí is created equal. SAMBAZON brings you the highest-quality Açaí available: Fair Trade organically-grown, ethically sourced—and extra delicious. From the palm of the tree to the palm of your hand.
HOW TO BOWL
One of the most commonly asked questions we get asked here at SAMBAZON is "How do I make an Açaí Bowl with a thick and creamy consistency"? There's no one better to teach this lesson than the Açaí Bowl Master herself, Earthy Andy!
Learn How to Bowl
Açaí Tips & Tricks
OPEN PACKS LIKE A PRO

After years of opening packs, trust us, the easiest (and quickest!) way is to cut it right in half with a sharp knife and break into your blender.

NUMBER OF PACKS TO USE

It depends on your recipe. We always recommend starting with 1 Frozen Açaí packet for smoothies and 2 Açaí packs for smoothie bowls.

MAKE A THICKER SMOOTHIE BOWL

Start with a little liquid and add more as needed until you reach your desired consistency. Add a frozen banana to make your bowl thicker and even more delicious!

ADD TEXTURE WITH TOPPINGS

A great smoothie bowl is all about the Açaí, but you can't forget the toppings. Mix it up with at least 3 textures, like fresh fruit, crunchy granola, and shredded coconut.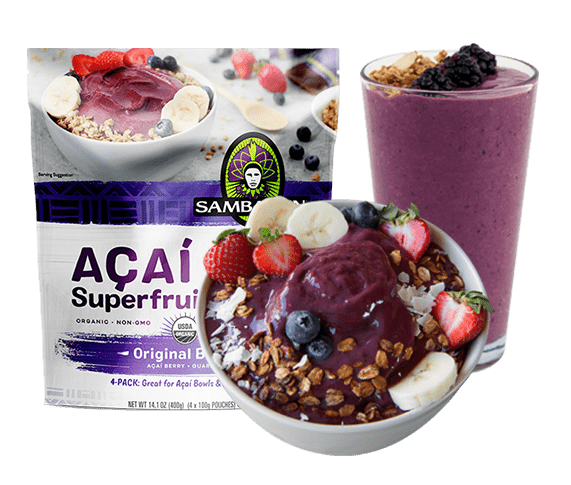 The Best Açaí Packets for Bowls & Smoothies
Blend it. Bowl it. Bring it! Our always organic Açaí Superfruit Packs are all you need to make delicious, nutritious Açaí bowls and smoothies at home. Whether you crave performance-driven protein or nutrient-rich super greens, our antioxidant-rich Açaí packets and frozen Superfruits come in a wide variety of flavors and formulas tailored to your needs—and tastebuds.
What is Açaí?

Açaí (AH-SIGH-EE) is a berry that grows on palm trees along the riverbanks of the Amazon rainforest and made famous for its use in Açaí bowls.

Why SAMBAZON Açaí?

SAMBAZON believes in transparency. We understand how important it is to know the food you and your family consume is of the highest quality, while also being ethically sourced, transported, and processed.