WHERE TO BUY OUR AÇAÍ
There's no need to trek to the Amazon - the best place to buy Açaí is right nearby! The world's largest supplier of Açaí products, SAMBAZON is sold in several major retailers including Ocado, WholeFoods Markets, Planet Organic, independent outlets, and more.
Need your Açaí delivered quickly? Simply shop from one of our rapid delivery partners across London and the UK. Zapp, Gopuff, Zebra, Amazon Fresh, and Ocado Zoom are all a click away!
SAMBAZON'S FAIR TRADE, ORGANIC AÇAÍ PRODUCT
No matter what your health needs or dietary goals are, we have the perfect Açaí products and Açaí recipes for you. Our easy-to-make packs are all you need to create refreshing Açaí bowls and smoothies at home. Whether you crave performance-driven protein or nutrient-rich super greens, you can buy frozen Açaí puree and frozen Açaí in a wide variety of flavors and blends tailored to your needs — and taste buds! From ready-to-eat bowls to grab-and-go juices to treat-yourself desserts, explore our full range of organic Açaí.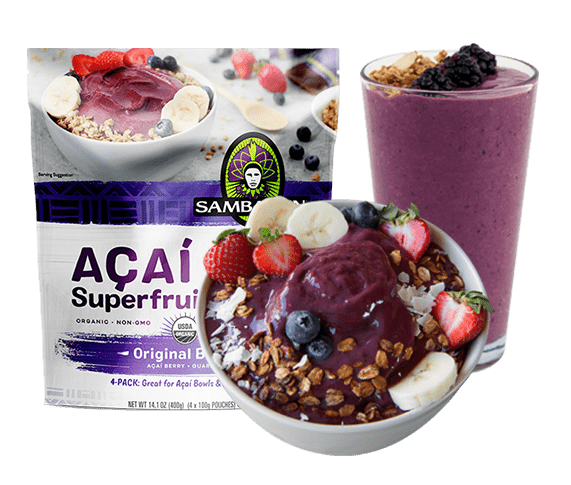 WHY CHOOSE OUR ORGANIC AÇAÍ PRODUCTS?
At SAMBAZON, we understand how important it is to know that the food you and your family eat is of the highest quality, as well as ethically sourced, transported, and processed. By creating our own supply chain, we oversee every step of the Açaí journey — from the moment it's harvested in the Amazon to its environmentally responsible distribution — bringing you the finest, safest organic Açaí products in the world. From the palm of the tree to the palm of your hand.